Facilities Maintenance
General Building Services
Commercial Property Renovations
. . . and more
Our experienced team of facilities maintenance and building services teams stresses the importance of execution and value. At J. DiMarco Builders, we always deliver our customers the exact service they need at the right time. Facilities maintenance and building services refers to all tasks and activities performed inside and outside of new construction to maintain the space's functionality, safety, and aesthetic appeal. 
J. DiMarco Builders' heritage is in luxury home construction and renovation. We have since transformed into a division of DiMarco Constructors, another DiMarco Group company, to provide multiple services to our parent company and third-party developers.

Commercial property maintenance and repair that put an extra emphasis on quality, performance and economical service.

We have a significant amount of repeat business from apartments and homeowner associations. They trust us to get the job done with our service-centric approach. 
Our team of experienced craftspeople can lead you through the process of renovating or ongoing maintenance.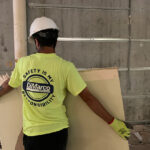 Commercial Renovation
In conjunction with DiMarco Constructors, we renovate commercial properties and then J. DiMarco Builders has the expertise to maintain the property once renovations are complete. A recent project is the Street of Shops expansion at BayTowne in Webster.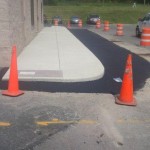 Sidewalk Reconstruction
J. DiMarco Builders utilizes the latest products for concrete crack repairs and can reconstruct damaged or sunken concrete sidewalks, curbs, driveways, etc.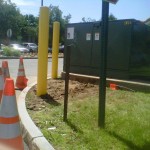 Barrier Installation
Let us repair or replace any type of damaged barrier, whether wood fencing or concrete parking or utility bollards. We can also add or change out parking signs to meet ADA compliance.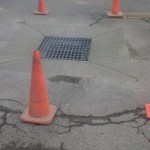 Storm Drains
Do you have damaged storm drains needing repair or replacement? We will cut out any damaged asphalt or concrete surrounding the drain, replace the drain cover if needed, repair the ledge the drain cover is seated on and repour with concrete around the drain cover.
At J. DiMarco Builders we offer the ideal resource for facility maintenance services with an extra emphasis on quality, performance and cost-effective solutions.
As facility maintenance and building services specialists working with the DiMarco Group family of companies, our involvement includes all the essential functions necessary to increase the enjoyable use of a facility and protect an owner's investment. This includes maintenance of grounds, electrical service, HVAC and countless other areas that relate to a facility's day-to-day operation. Our skilled team of highly trained tradespeople and experienced management ensures every project will be handled professionally and in a timely manner.